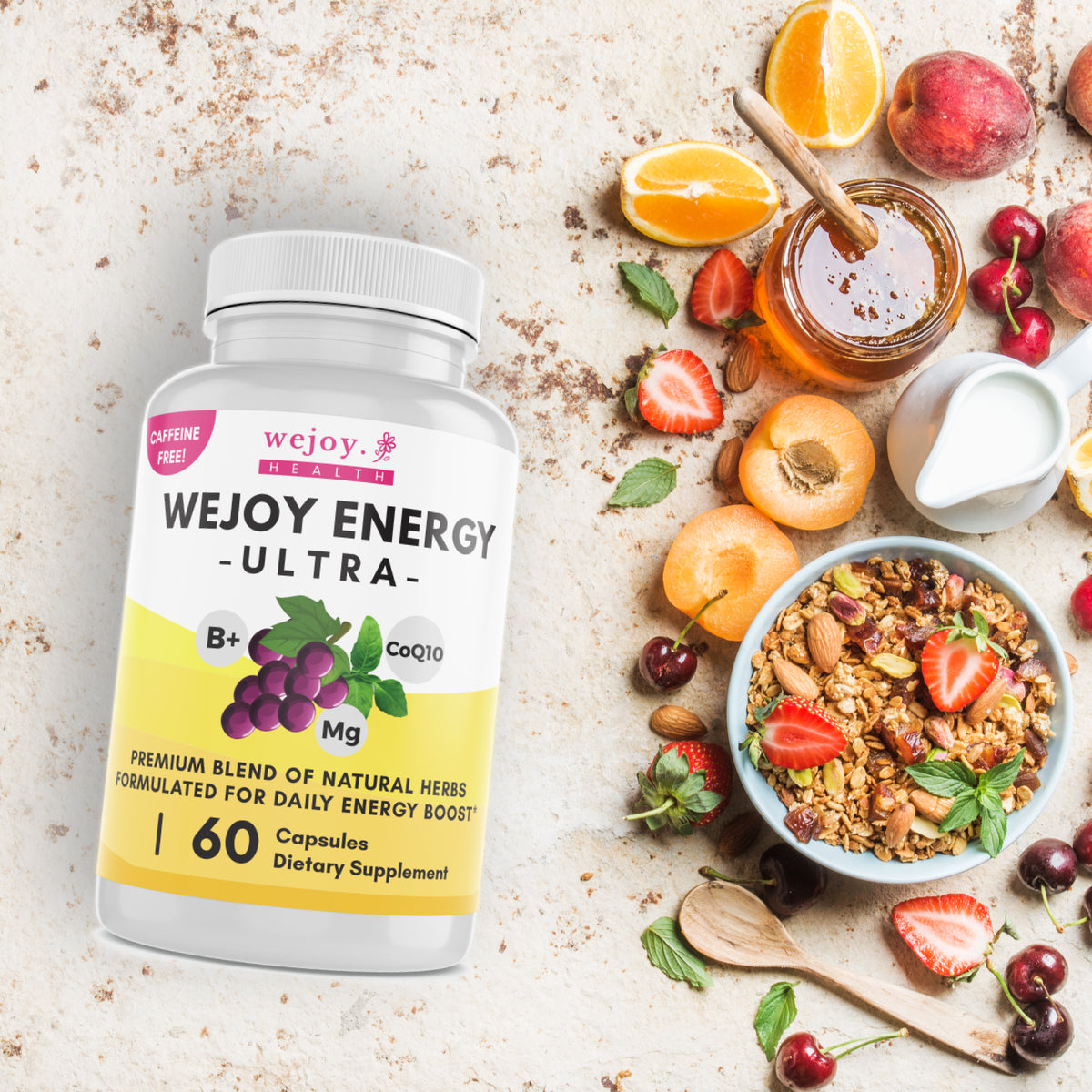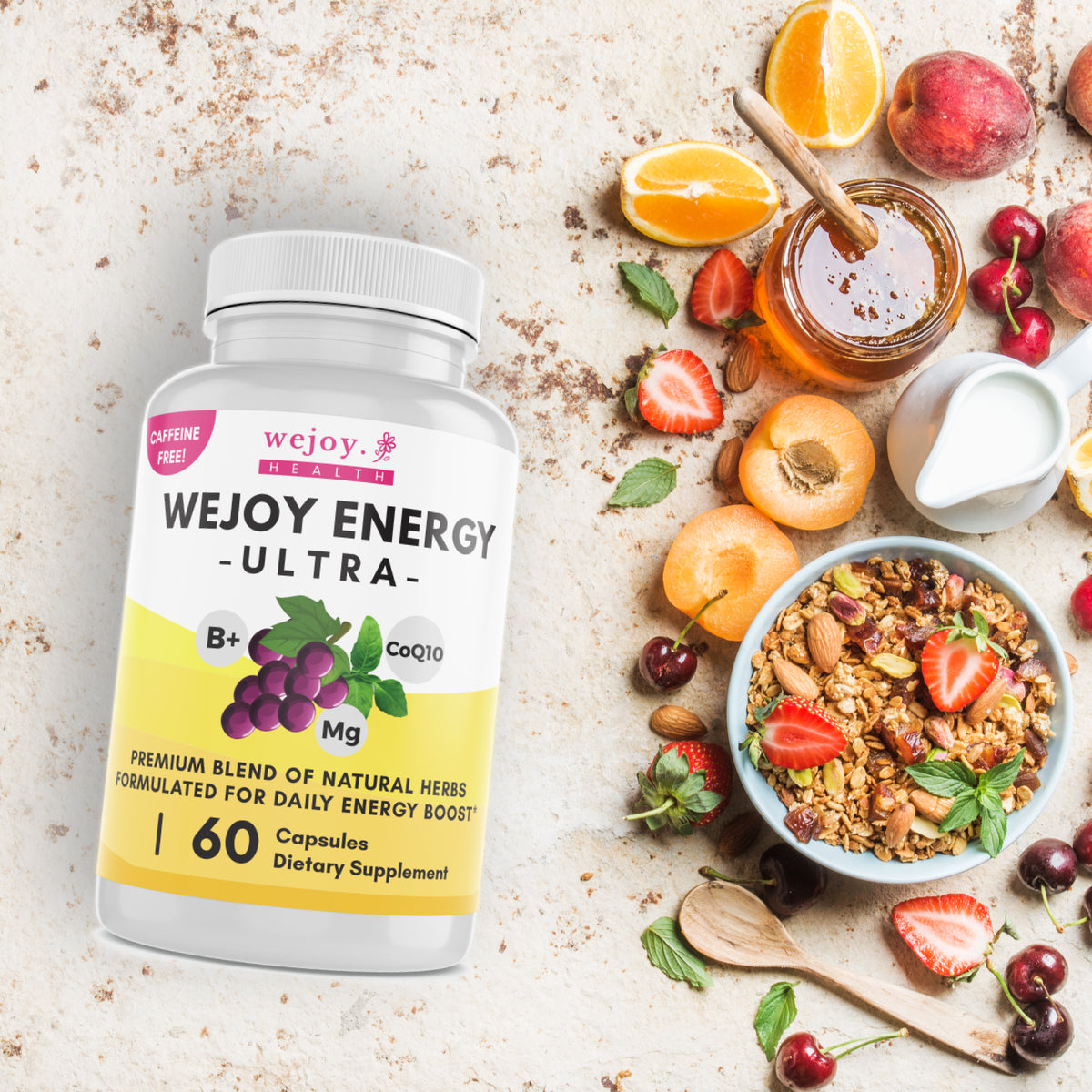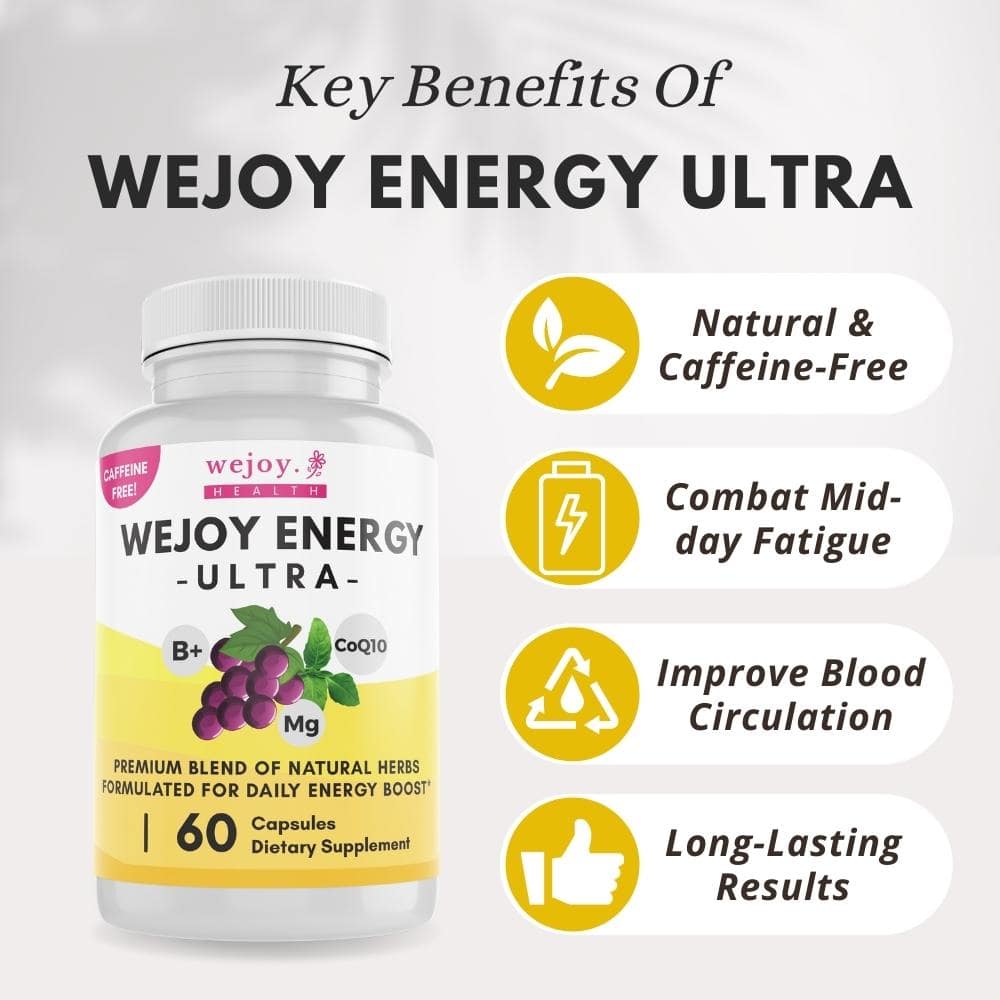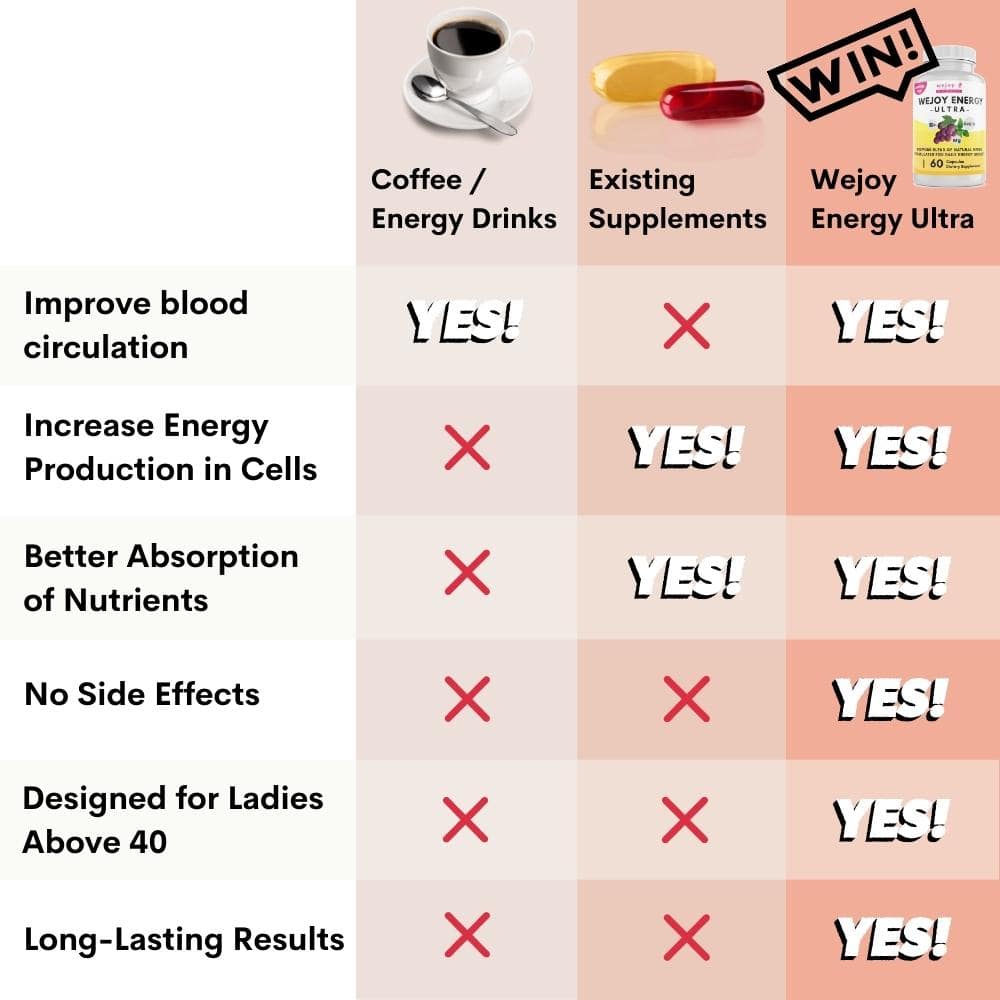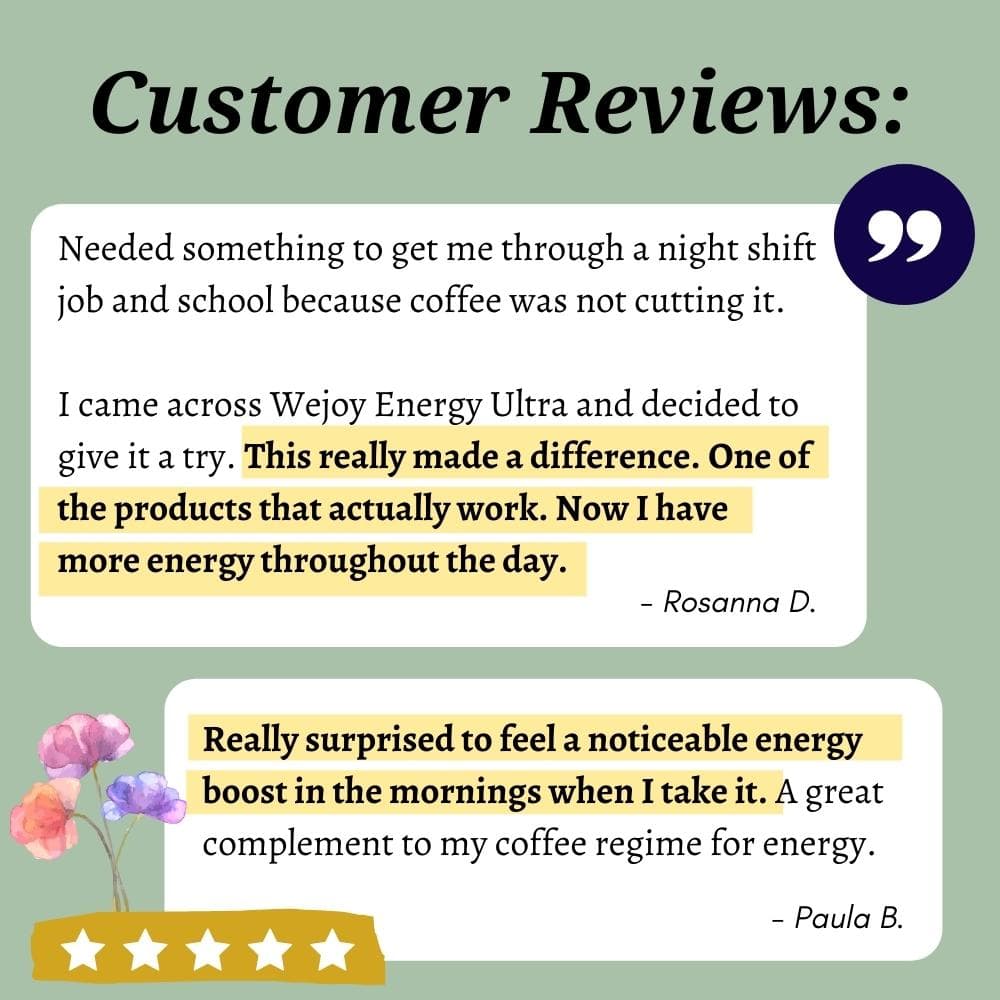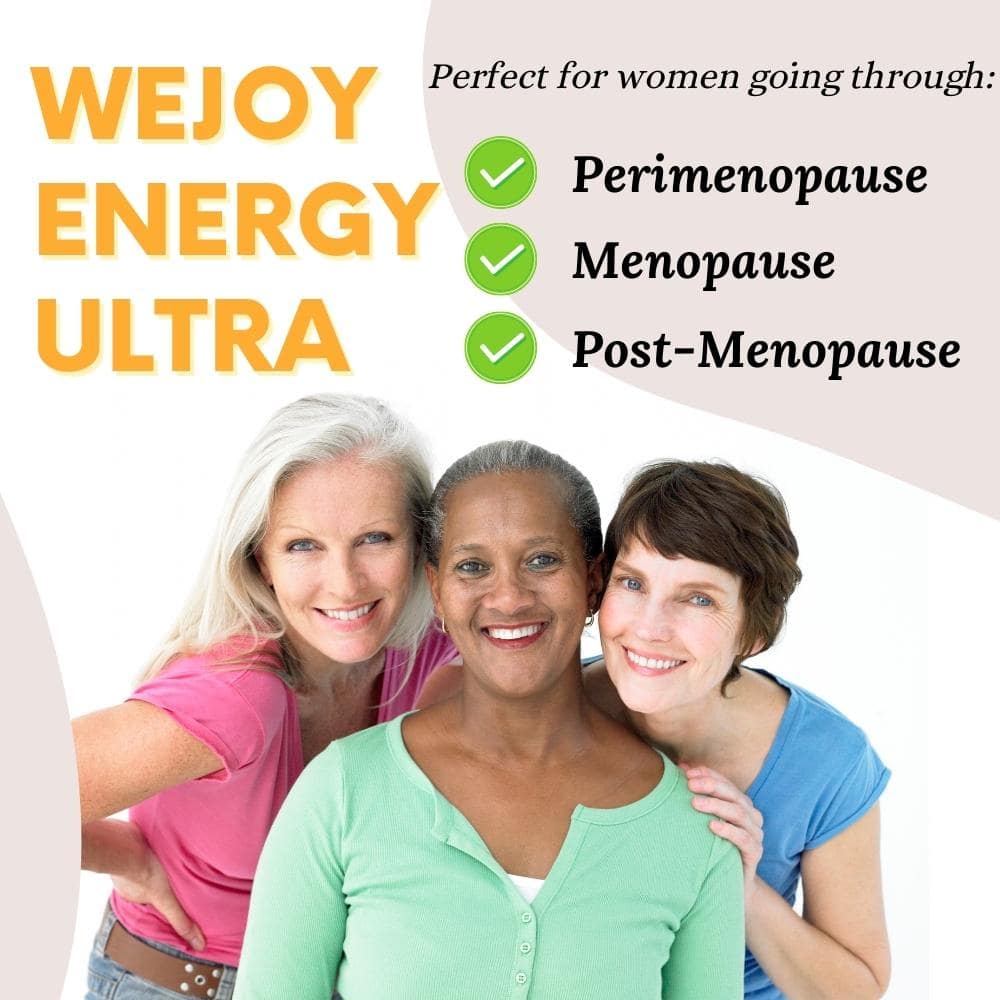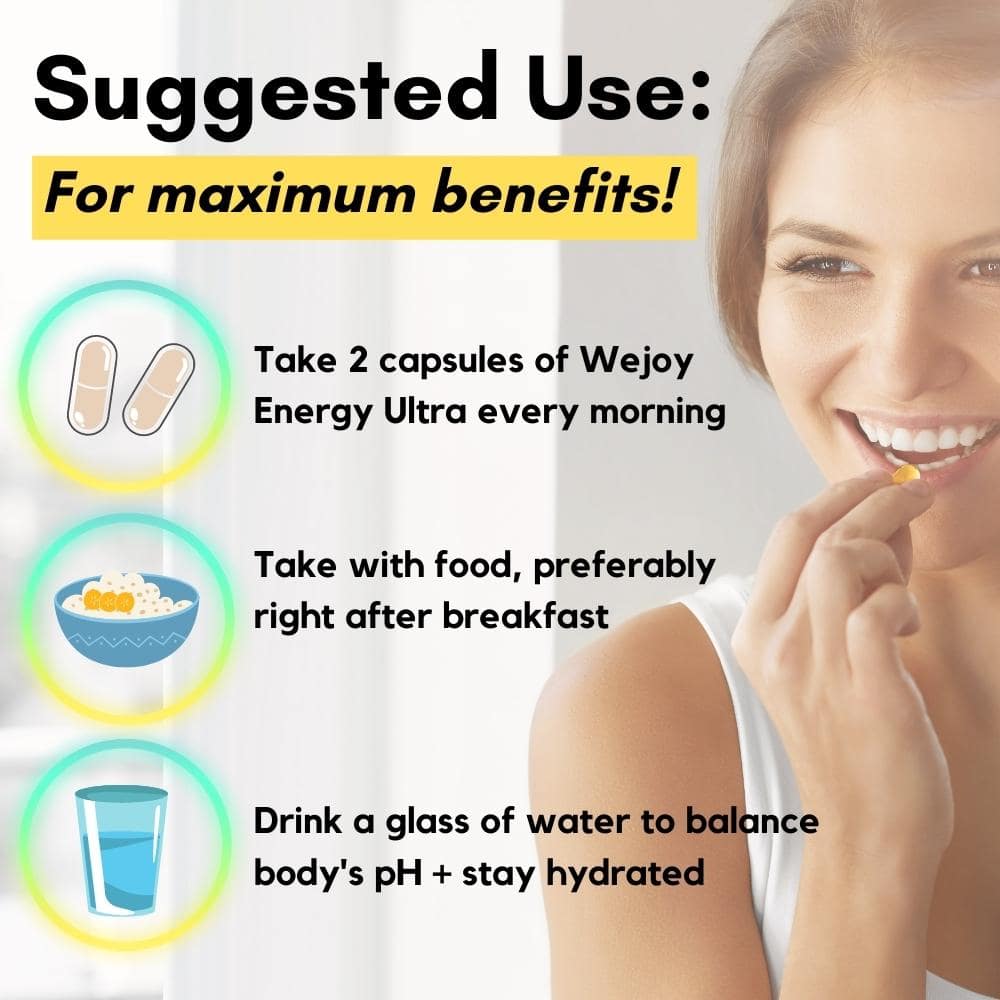 Wejoy Energy Ultra | Premium Supplement For Daily Energy
$58.65
Natural Caffeine-Free Energy

Improve Blood Circulation

Increase Effectiveness With Quick Absorption

Combat Mid-Day Fatigue
Shipping Information

US (5 ~ 8 Working Days)
International (15 ~ 22 Working Days)

For non-US orders, VAT or duties may be imposed by the government of the receiving country.
Return Policy

We offer 100% money-back guarantee (excluding shipping), if you're not satisfied with your order.

Simply write to us at contact@wejoyhealth.com and our team will assist you within 24~48 hours!
Health Benefits
Now You Can Be In Your 40s, 50s Or Even 60s, Yet Still Have The Energy Of A 30-Year-Old!
Finally having the energy to do the things you want
No longer finding yourself dragging through the day
Everyone will be amazed by how great you look!
3 Core Reasons Why You're Feeling Tired All The Time!
Poorer Blood Circulation
Healthy blood circulation is vital in carrying nutrients to produce energy in our cells. Poor blood circulation leads to less energy being produced.

This is why there's no surprise you have trouble staying awake even after a full night's sleep. Not only that, poor blood circulation will also lead to cold limbs, muscle cramps and numbness easily.
Lesser Energy Production
Your body produces lesser Mitochondria (the power plant for your cells). These "power plants" convert the food we eat into energy.

In other words, when there are less Mitochondria, your body creates less energy. This explains why even with a healthy diet and exercise, you are still feeling tired all the time.
Slower Absorption Rate
When our body isn't getting as much key nutrients from the food and supplements we intake, this again leads to lesser nutrients for the cells.

Which explains why most people don't experience lasting results from supplements & health foods.
Why Wejoy Energy Ultra?
All-Natural Premium Blend To Boost Daily Energy Naturally And Effectively!
Improve Blood Circulation With L-Arginine
L-Arginine helps to stimulate the blood flow in your body.

This means the cells will be getting more oxygen and nutrients to produce energy. Finally, no more feeling sluggish in the middle of the day!
Enhance energy production with CoQ10
CoQ10 enhances the cell's energy production by producing more Mitochondria (the cells' "power plants"), which leads to you experiencing a surge of energy without feeling the "crash"!
Increase Absorption Rate with Bioperine
Studies have shown by adding patented ingredients such as Bioperine, it amplifies the absorption rate of nutrients. In other words, you get to experience more energy & vitality quicker!
RESVERATROL
Well-known for its antioxidant properties. Proven to support the heart and blood circulation for vitality.
L-ARGININE
An ingredient that has been scientifically-tested to stimulate blood flow which helps to remove sluggishness!
Coenzyme Q10 (CoQ10)
Energy production powerhouse. Provide clean, steady energy levels all day.

Pyrroloquinoline quinone (PQQ)
Complement with CoQ10 for maximum energy.

BIOPERINE
Triples nutrients absorption rate! In other words, Bioperine helps to triple the effectiveness of Wejoy Energy Ultra. Plus, it helps to restore energy & vitality.
MAGNESIUM
One of the most important minerals for your body. In fact, every cell in your body needs it to function.
SHILAJIT
Known as the "Rock of Life" in Sanskrit. An extract that is commonly found in the Himalayas mountains that is proven to combat fatigue & lethargy.

OMEGA-3
With the environment in mind, we extracted Omega-3 from plants instead of fish oil. Odourless & suitable for Vegans. Protects the heart from diseases and inflammation.

VITAMIN B3
Increases the effectiveness of how your body converts food into energy. Plus, it has been shown to support healthy blood flow.

Suggested Use
For Best Results, Take 2 Capsules Daily In The Morning, With Food Or As Directed By Your Physician.
Wejoy Energy Ultra Works Perfect For Women Who Are Looking For:
#1: More Youthful Energy. Less Tiredness. Healthier Body
Specially-formulated to boost daily energy naturally. Finally, get to enjoy life to the fullest without relying on caffeine & other stimulants which causes the mid-day crash and jitters!
#2: Experience Noticeable Results
Many customers were amazed to see noticeable improvements in as little as 2 weeks!
#3: 100% Safe & Natural, with No Side Effects
Wejoy Energy Ultra is 100% soy-free & hormone-free to reduce side effects. We use natural, clinically researched ingredients that are safe for consumption