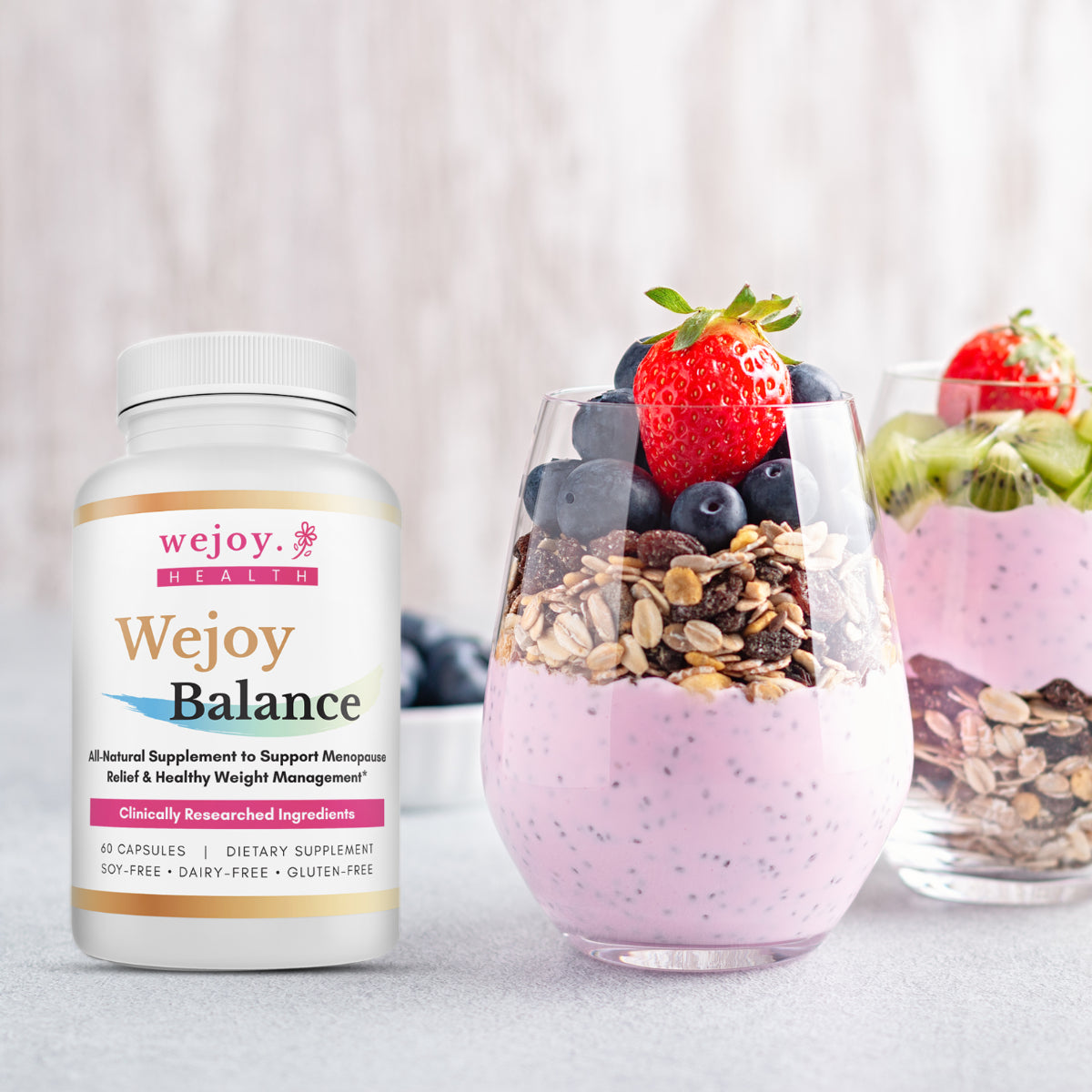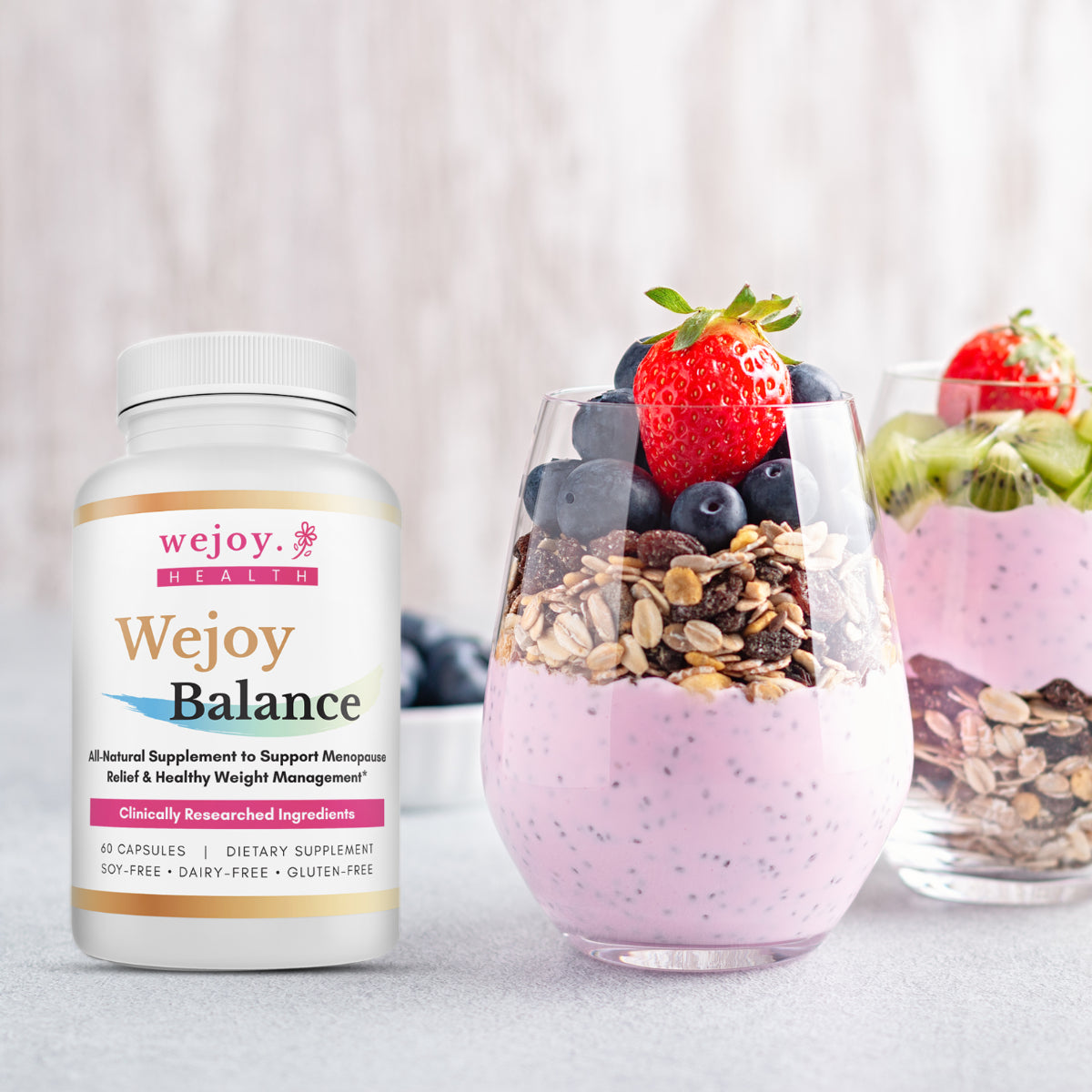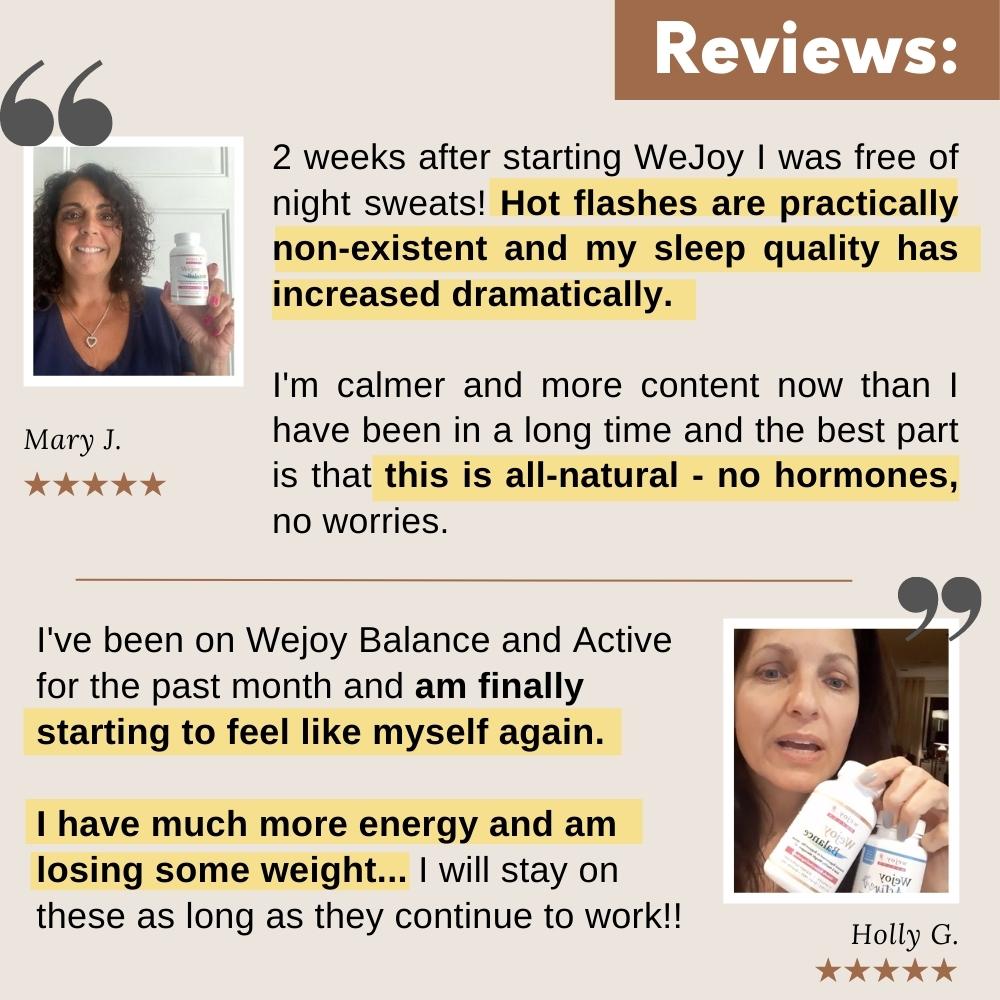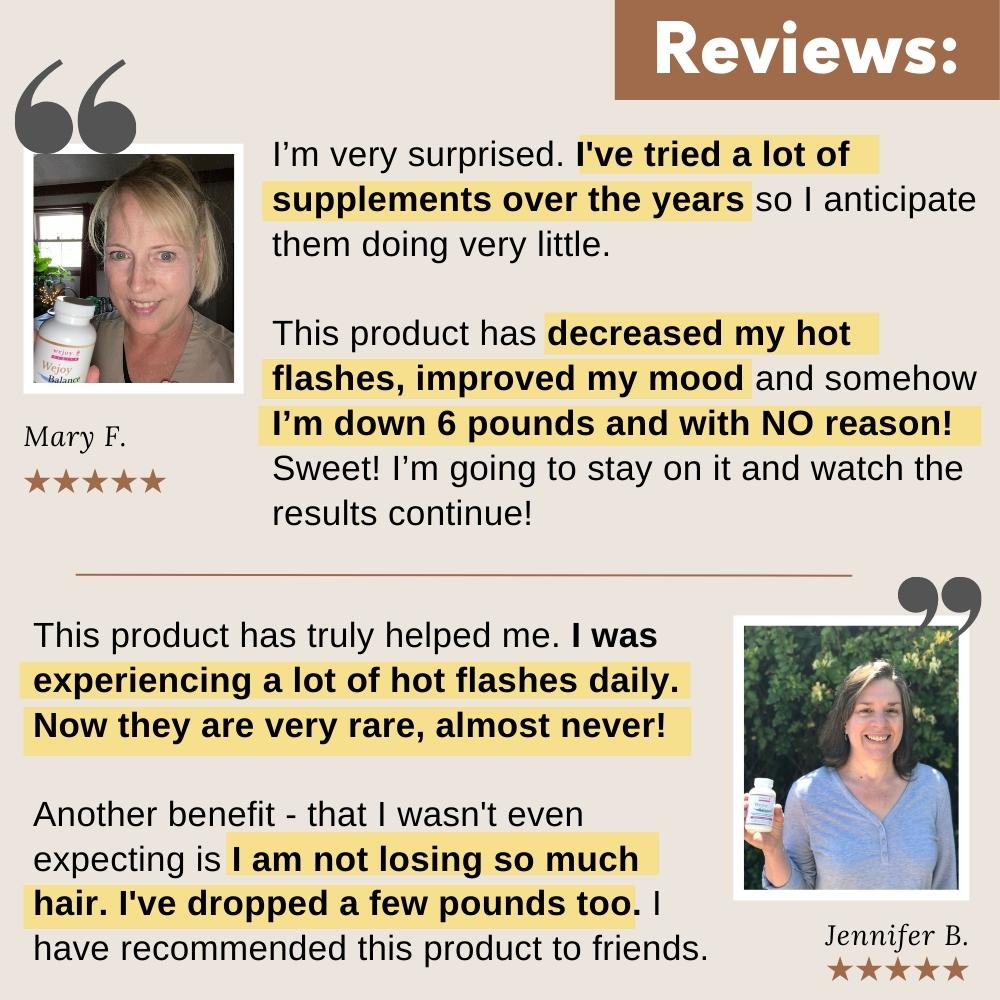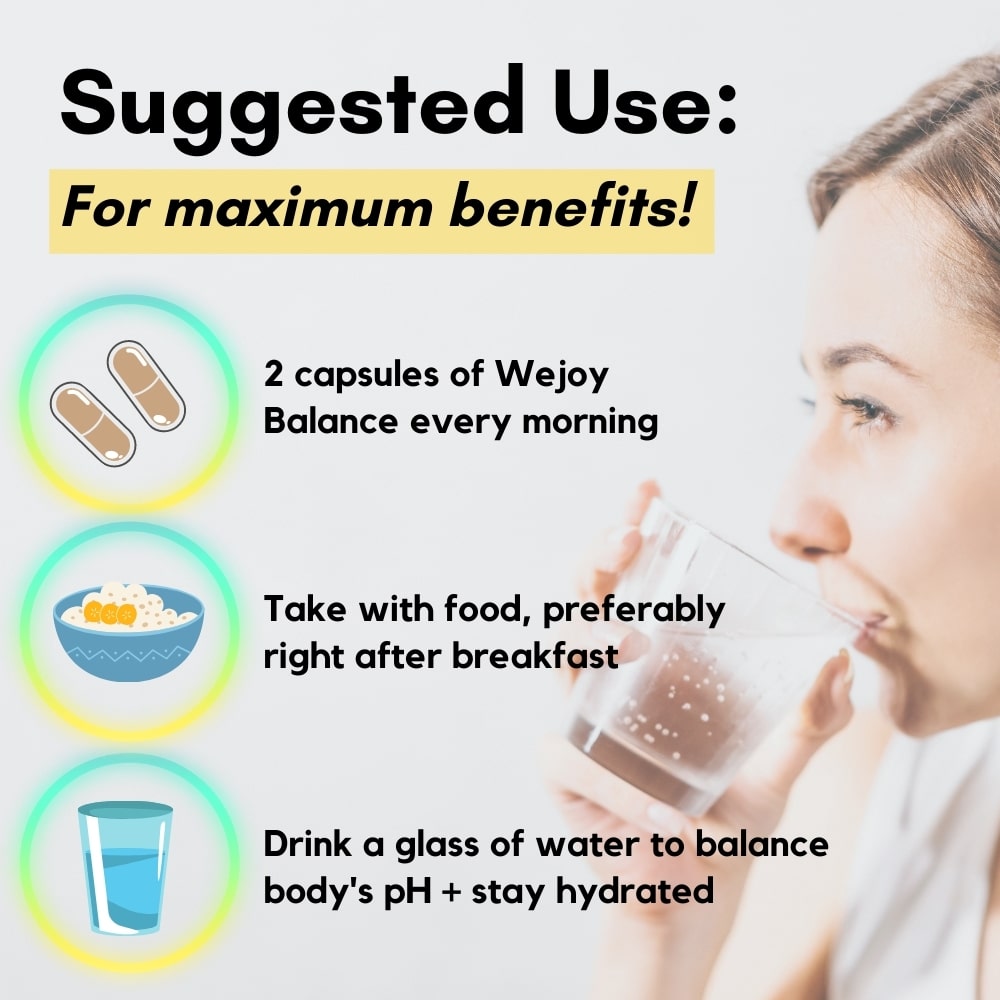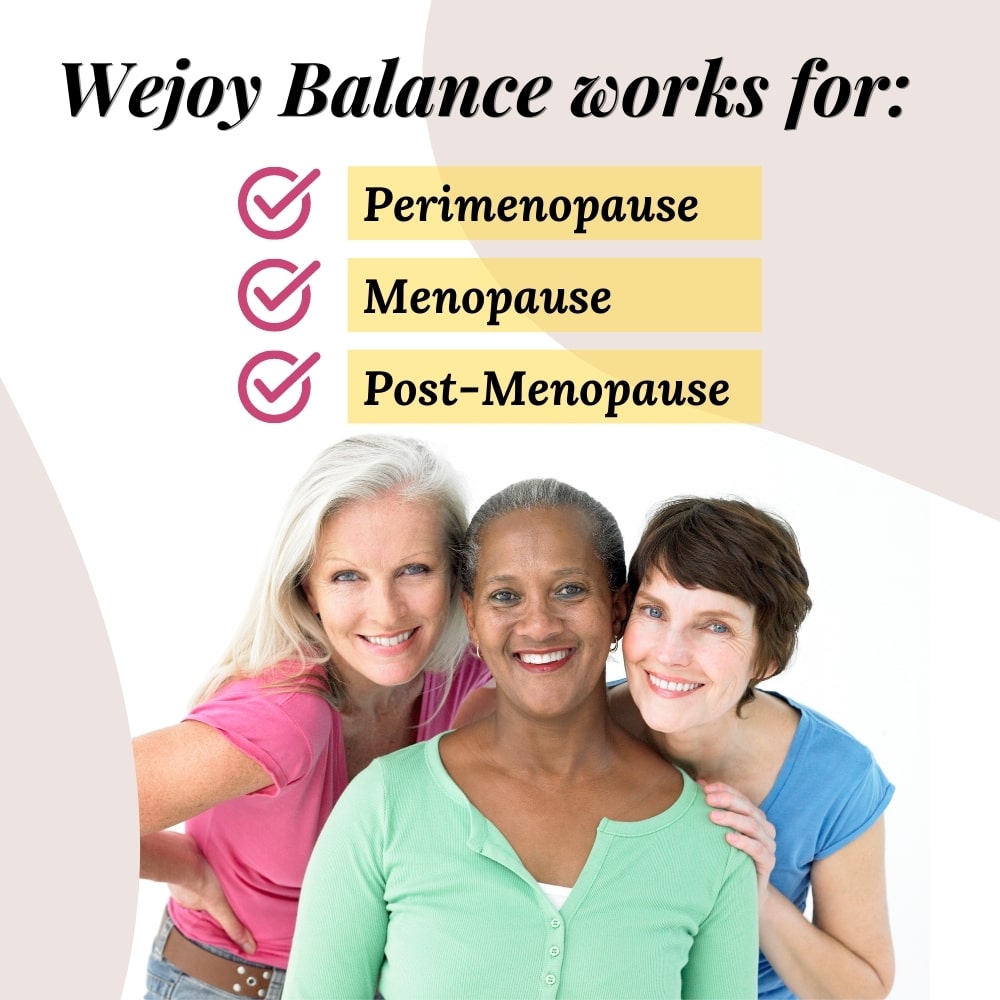 Wejoy Balance | All-Natural Menopause Supplement
$49.00
Reduce hot flashes and night sweats by 92%
Improve sleep quality by 88%, waking up feeling refreshed
Reduce joint pain by 85%, including any hip, back or leg discomfort

Healthy weight management
Shipping Information

US (5 ~ 8 Working Days)
International (15 ~ 22 Working Days)

For non-US orders, VAT or duties may be imposed by the government of the receiving country.
Return Policy

We offer 100% money-back guarantee (excluding shipping), if you're not satisfied with your order.

Simply write to us at contact@wejoyhealth.com and our team will assist you within 24~48 hours!
Experience Relief in Just 14 Days!
A pilot study was conducted across 2,157 women where everyone took Wejoy Balance daily for 90 days.

81% of women reported relief in areas such as hot flashes, fatigue and joint aches within 14 days.

95% of women experienced significant menopausal relief within 2 months.

The study was done where all participants had no change in their schedules, diet or exercise regime.

"Wejoy Balance is not a want but a necessity for all women facing menopause"
-Catherine, New York, Age 51 (Participant)
Main Cause of Menopause Symptoms:
The main reasons why women experience unwanted, miserable symptoms of menopause are due to declining Estrogen levels and rising Cortisol levels.
What is Bi-genic Balance?
By using a unique and perfectly-balanced blend of adaptogen and phytoestrogen, Wejoy Balance helps to target the 2 key hormones: Estrogen & Cortisol.

Once the Bi-Genic Balance is introduced, it can effectively reduce hot flashes, regulate mood swings and combat weight gain.
It only takes 2 capsules a day to start feeling like yourself again!
Imagine never having to wake up in the middle of the night sweating


Finally able to fit into that skinny jeans without changing your diet!

Feeling refreshed, well-rested and energized throughout the day

And receiving praises from family & friends on how confident you look!
Ingredient List
FENUGREEK
Fenugreek extract has been used to treat a wide range of ailments. It is clinically tested to reduce hot flashes and night sweats effectively
ASHWAGANDHA KSM66
Trademarked Ashwagandha extract scientifically proven to reduce cortisol levels. It is also known to improve memory and focus
TURMERIC
Contains Curcumin to alleviate menopause symptoms such as mood swings. Also, it helps to reduce inflammation and ease joint pain

Black Cohosh
A natural herb used for centuries to treat symptoms of menopause such as hot flashes and insomnia

DIINDOLYLMETHANE (DIM)
Promotes proper hormone metabolism and maintains estrogen levels in the body to support healthy weight management
DECAFFEINATED GREEN TEA EXTRACT
Freshly picked from the purest green tea leaves and naturally decaffeinated - all to help the body burn calories faster. Get all the good benefits without the caffeine!
Suggested Use
For best results, take 1 serving of 2 capsules in the morning, with food or as directed by your physician.
Wejoy Balance Works Perfect For Women Who Are Looking For:
#1: A Long-lasting Menopause Solution
Specially-formulated to ensure women enjoy lasting comfort and go through menopause with ease.
#2: Experience Noticeable Results
Many customers were amazed to see noticeable improvements in as little as 2 weeks!
#3: 100% Safe & Natural, with No Side Effects
Wejoy Balance is 100% soy-free to reduce side effects. We use natural, clinically researched ingredients that are safe for consumption