5 Tasty Foods to Help Stop Menopause Weight Gain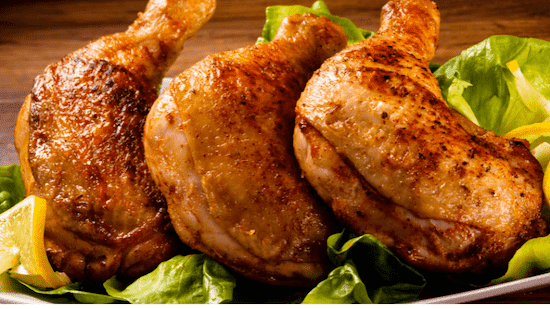 As women age, their bodies go through a variety of changes. One of the most common and challenging changes is menopause weight gain.
Menopause can cause a decrease in metabolism and an increase in appetite, both of which can lead to unwanted weight gain. However, certain foods can help to fight these effects and keep weight under control.
Look closely at five of the best foods for fighting menopause weight gain.
Salmon
Salmon is an excellent option for women who are going through menopause. Salmon is rich in both vitamin D and omega-3 fats, two nutrients that are even more essential during menopause.  
While more research needs to be done, omega-3 fatty acids are linked to reducing night sweats and breast cancer risk. One study shows omega 3s are beneficial as women ease out of menopause. 
Vitamin D is essential for healthy bones, cancer prevention, and the prevention of several other primary chronic conditions—all of which can be impacted by menopause. Vitamin D is also associated with a reduced risk of early menopause. 
Eating salmon can help you get the nutrients you need to ease the symptoms of menopause and stay healthy during this time of transition.
Leafy Greens
Leafy greens are a great way to pack several hard-to-obtain nutrients like calcium, magnesium, potassium, B vitamins, and fiber.  
All these nutrients are essential for health in menopause as calcium and potassium keep bones and muscles strong, B vitamins and fiber help prevent weight gain, and magnesium and B vitamins regulate our energy levels and moods.  
Cruciferous veggie consumption is linked to longevity and is a great way to get the nutrients you need. So make sure to add leafy greens to your diet if you want to experience menopause in the healthiest way possible. 
Chicken
If you're in your 40s or 50s and noticing a decline in your muscle mass and bone density, it could be due to the natural drop in estrogen that comes with menopause. To keep your body strong, healthy, and vibrant during this time, it's essential to consume plenty of lean protein. 
Chicken is an excellent source of lean protein, providing all the essential amino acids your body needs to build and maintain muscle mass. It's also low in saturated fat, linked to an increased risk for heart disease, diabetes, high cholesterol, and obesity. 
So make sure to include chicken in your diet if you want to keep your body strong during menopause. It's a delicious and healthy way to get your body's protein. 
Oatmeal
The health benefits of oatmeal are well-documented. Oats are a healthy carb that can help keep energy levels steady during menopause. Oatmeal is the perfect vehicle for incorporating many other menopause-friendly foods like berries, flax, and yogurt. 
Oats are rich in fiber, which can help to regulate digestion and prevent constipation. Oats also contain beta-glucan, a type of soluble fiber that has been shown to reduce cholesterol levels. 
Oats are a good source of vitamins and minerals, including magnesium, potassium, and zinc. They are also a good source of protein and healthy fats.
Green Tea
Not only is green tea a delicious way to wake up in the morning, it also provides a range of health benefits that can help stop menopause weight gain.  
Green tea is packed with antioxidants and polyphenols that reduce inflammation, promote heart health, and protect against cancer. Drinking green tea regularly can also help boost your metabolism and promote weight loss.
Conclusion:
Eating healthy during menopause is essential for managing symptoms, maintaining bone and muscle mass, weight gain, and preventing chronic diseases. Salmon, leafy greens, chicken, oatmeal, and green tea are all great options for menopausal women that help to stop weight gain. Including these foods in your diet can help you experience menopause in the healthiest way possible.
Hear from our customers how MenoSlim Pack has helped them to lose those muffin top and shake off unhealthy weight gains naturally!
Let MenoSlim Pack Help You To Curb Unhealthy Cravings And Bloating Today!
If you want to experience the weight loss benefits like Angelia and 12,000 other women all around the world... try MenoSlim Pack today and enjoy up to 20% off!   
Leave a comment