5 Ways To Lose Holiday Calories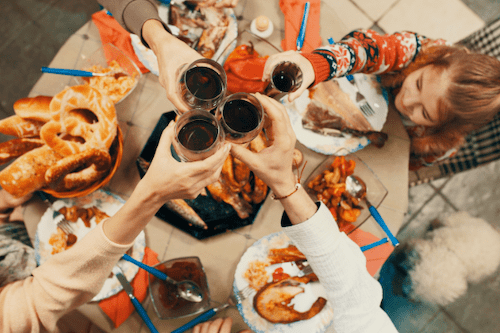 It's a familiar story: the holidays are a time for celebration, and that often means indulging in delicious, high calorie foods. But now that the holidays are over, you may be feeling the effects of those extra pounds you gained.

Don't worry, you're not alone! Many people struggle with holiday weight gain, and it can be tough to get back on track with your weight loss goals.

In this post, we'll share 5 practical tips for losing holiday calories and getting back to your healthy weight.



The 5 Ways To Lose Holiday Calories
Tip #1: Stay active



Physical activity is an important part of a healthy lifestyle, and it's especially important for weight management. Regular exercise can help you burn calories, boost your metabolism, and improve your overall health.

According to the World Health Organization, adults should aim for at least 150 minutes of moderate-intensity or 75 minutes of vigorous-intensity physical activity per week.

There are many ways to stay active, so find activities that you enjoy and that fit your schedule. This could be anything from a morning jog to a dance class to a game of basketball with friends. It's important to set realistic goals and start small, especially if you're new to exercise.

A study published in the Journal of the American Medical Association found that even modest amounts of physical activity can have significant health benefits.

It's also a good idea to consult with a healthcare professional for guidance on the best type and intensity of physical activity for you.




Tip #2: Eat a healthy and balanced diet
What you eat plays a big role in your weight and overall health. To lose holiday calories, it's important to focus on a healthy and balanced diet. This means incorporating a variety of fruits and vegetables, choosing whole grains, and limiting processed and sugary foods.

A study published in the New England Journal of Medicine found that a diet high in processed foods and added sugars is associated with an increased risk of obesity and related diseases.

It's also important to pay attention to portion sizes and not overindulge. If you're not sure where to start, consider seeking the guidance of a registered dietitian or nutritionist. They can help you create a personalized meal plan that meets your specific needs and goals.




Tip #3: Get enough sleep
Sleep is often overlooked when it comes to weight management, but it's actually an important factor. Lack of sleep can lead to weight gain by disrupting the balance of hormones that regulate appetite and metabolism.

One study from American Journal of Epidemiology found that people who sleep less than 7 hours per night have a higher risk of obesity. It can also affect your energy levels and ability to make healthy choices.

To get enough sleep, try to establish a consistent sleep schedule and create a comfortable sleep environment. Avoid screens and other sources of artificial light before bed, as exposure to blue light can disrupt sleep. Consider using relaxation techniques like deep breathing or meditation to wind down.



Tip #4: Practice stress management
Stress can have a negative impact on your weight and overall health. When you're stressed, your body releases a hormone called cortisol, which can increase appetite and lead to weight gain.

A study published in the journal Obesity found that people who reported high levels of stress had a higher body mass index (BMI) compared to those who reported low levels of stress.

To manage stress, it's important to find healthy ways to cope with stressors. This could include practicing relaxation techniques like yoga or meditation or seeking support from loved ones.



Tip #5: Stay hydrated


Staying hydrated is important for your overall health, and it can also support weight management. Water is a natural appetite suppressant, and it can help you feel full and satisfied.

A scientific article from the Journal of Obesity found that increasing water intake was associated with weight loss in overweight and obese adults.

To stay hydrated, carry a water bottle with you and aim to drink at least 8 cups of water per day. You can also choose water-rich foods like fruits and vegetables, and limit sugary drinks like soda and fruit juice.

Final Words:
In conclusion, the holiday season doesn't have to mean weight gain and unhealthy habits. By incorporating these 5 practical tips into your life, you can support your weight management and overall health.

Remember to consult with a healthcare professional for personalized guidance and support. So, stay healthy and enjoy your holidays!
Hear from our customers how MenoSlim Pack has helped them to lose those holiday calories naturally!
Let MenoSlim Pack Help You To Get Rid Of Unwanted Belly Fat Today!
If you want to experience the weight loss benefits like Angelia and 12,000 other women all around the world... try MenoSlim Pack today and enjoy up to 20% off!   
Leave a comment