How to Improve Sleep in Menopause Through Natural Means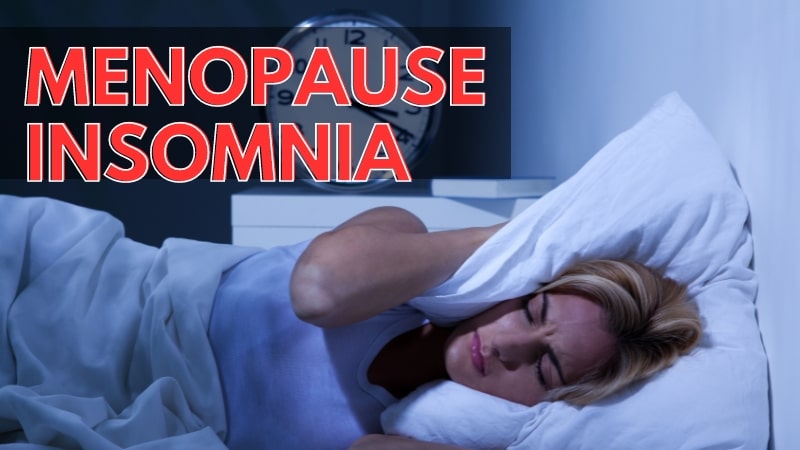 As women go through menopause, their lives go through a lot of changes. Add menopause symptoms on top of the hectic lifestyle we have, and you may experience difficulty falling asleep at night.
1. Have an early and light dinner

Change your routines if they prevent you from getting a decent night's rest. By mid-afternoon, try limiting your caffeinated foods and beverages such as coffee, tea, soft drinks, and chocolate.

Having a light and early dinner can help with sleeping better by allowing your body enough time to digest the food before bedtime. When you eat a heavy meal close to bedtime, your body has to work harder to digest the food, which can interfere with your sleep. So try and finish dinner at least 3-4hours before bed, which should be your lightest meal of the day.

In addition, a light dinner can prevent discomfort from indigestion or heartburn that can keep you up at night. Overall, having a light and early dinner is a healthy habit that can contribute to better sleep hygiene and help you get the restful sleep you need.

2. Create a sleep routine 
Making preparations can help you sleep as soundly as possible. An excellent method to unwind and wind down is to establish a regular night time routine and minimize your time watching television or on social media before bed. Selecting a sleep pattern teaches your body and mind to doze off and wake up regularly. 

The recommendation to get 7 to 8 hours of sleep per night. To establish when you should go to bed, figure out when you wake up. Following a routine will allow your body to adjust after a few weeks. Even though it may be difficult in the beginning, it can be an effective method to adjust your body clock.

Creating a sleep routine can help regulate your circadian rhythm, the internal body clock that controls your sleep-wake cycle. When you sleep around the same time every day, your body gets into a routine, making it easier to fall asleep and stay asleep throughout the night.

3. Light stretches before bedtime

Incorporating light stretches into your bedtime routine can be an effective and healthy way to improve your sleep hygiene and help you get a restful night's sleep.

Light stretches can help you sleep better by relaxing your body and mind, reducing muscle tension and stress, and promoting better blood flow. Stretching can promote relaxation and calmness, which can help reduce stress and anxiety, two common culprits that can interfere with sleep.

Stretching can help release tension in your muscles and joints that may have built up throughout the day, especially if you have been sitting or standing for long periods. This can help alleviate physical discomfort that may keep you from falling asleep or wake you up during the night.

4. Avoid alcohol (For Real!)
There is no denying that alcohol can ruin your sleep. In fact, alcohol is perhaps the biggest hot flash trigger I can think of, as even a tiny quantity up to an hour before bedtime will suppress melatonin production by around 20%. 

Another way alcohol affects our sleep is by reducing our REM (rapid eye movement) sleep. REM sleep is a crucial stage of sleep that helps us consolidate memories and process emotions. Alcohol can decrease the amount of REM sleep we get, leading to poor sleep quality and leaving us feeling groggy and tired in the morning.

Finally, alcohol is a diuretic, which means it can increase our need to use the bathroom during the night, leading to more interruptions in our sleep.

Overall, while alcohol may help us fall asleep faster, it can ultimately prevent us from getting a restful and restorative night's sleep.

MenoRelief Pack – Natural supplement designed to improve sleep and mood!

In addition to these natural remedies, there are also supplements that may be beneficial for managing insomnia due to menopause.

Wejoy Balance contains a blend of natural and effective ingredients that can help to promote better sleep and moods.

KSM-66 is a branded form of ashwagandha, an herb commonly used in Ayurvedic medicine. One study published in the Journal of Ayurveda and Integrative Medicine found that ashwagandha root extract helped improve sleep quality in people with insomnia. It helps to reduce stress and improved sleep quality in individuals with anxiety and insomnia.

Ashwagandha is also believed to have a calming effect on the nervous system, which could help reduce stress and anxiety and promote better sleep. It may also help regulate the body's circadian rhythm, the internal clock that controls our sleep-wake cycle.

Wejoy Active contains premium mushroom extract that are effective in improving insomnia and mood swings. Lion's Mane and Reishi mushroom have been used in traditional Chinese medicine for centuries for its relaxing and calming effects. Some studies have suggested that they may help improve sleep quality, reduce anxiety, and improve mood.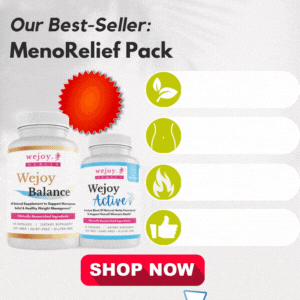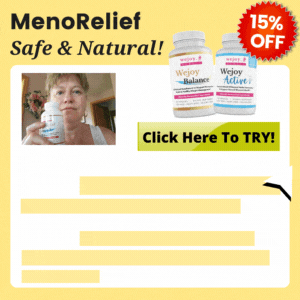 The Final Tip...
We understand that menopause can be a difficult journey for many women. Hence we created Wejoy Health products to help women to relieve menopause symptoms naturally.
If you're trying to incorporate the tips mentioned above, but you're unsure of where to start... MenoRelief Pack is here for YOU!
 
Many of our customers have seen such great results just by adding MenoRelief Pack into their daily diet!

Leave a comment