How To Prevent Wrinkles? 5 Anti-aging Tips To Get That Youthful And Glowing Skin.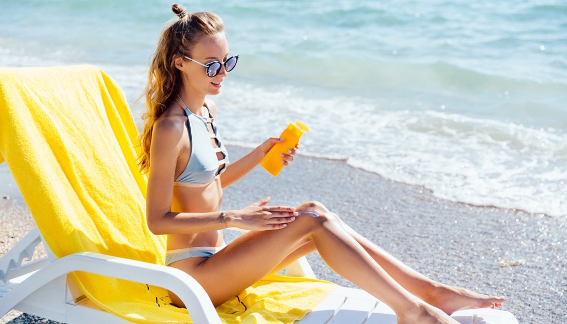 From the food we eat to the way we sleep, these seemingly minor decisions can end up making us years older than our actual age. While wrinkles are an inevitable part of aging, there are steps you can take to slow their progress and prevent new ones from forming.
Wear Sunscreen
It's a well-known fact that exposure to the sun can damage your skin, leading to premature aging and wrinkles. Rain or shine, in every season, wearing sunscreen should be an automatic part of your daily routine, like brushing your teeth. For extra protection, wear a wide brim hat, light-colored clothes that'll reflect the sun, and sunglasses with UV protection.
. 
Sleep On Your Back
Always sleep on your side? The habit could be causing lines to form on the cheek that's constantly pressed against the pillow.

One way to prevent this is to try sleeping on your back. By changing your sleeping position, it eases neck and back pain and fights acid reflux.

Silk pillowcases may also be kinder to your skin than cotton, as they create less friction and help prevent abrasion of the skin.


.
Cut Back On Sugar
As if the risk for obesity, diabetes, and heart disease wasn't enough, sugar may take a toll on your skin, too. Aging is part of growing older, but it's accelerated by sugar. Eating too much sugar produces AGEs in our body, which make your collagen and elastin stiff, dry and brittle, zapping them of strength and spring. The effects are seen on your complexion in the form of fine lines, sagging, and wrinkles.
.
Drink Lots of Water
Now, do we really need to tell you this? Drinking water is essential for good health. Your body needs water for almost every function it does. Doctors recommend drinking 8 glasses per day, however, we say make it a habit to drink at least 12 glasses each day. Not only will these keep you healthy, but will leave a radiant glow on your skin which will make you look younger.
.
Beauty Sleep
We all know that sleep is the most important part when it comes to keeping our mind and body healthy. Your body needs downtime to repair cells and rest your heart. If you are not getting your beauty sleep for at least 8 to 9 hours daily, trust us, you will end up looking 10 years older than your real age in the next 5 years.
.
So remember…
There are a couple of different factors that have a direct effect on how quickly wrinkles appear on your body.
Lifestyle factors like eating a vitamin-rich diet, drinking plenty of water, protecting your skin from the sun, and managing your stress play a key role when it comes to keeping your skin healthy and youthful. 
Leave a comment